6 Ways To Help Win New Business At Trade Shows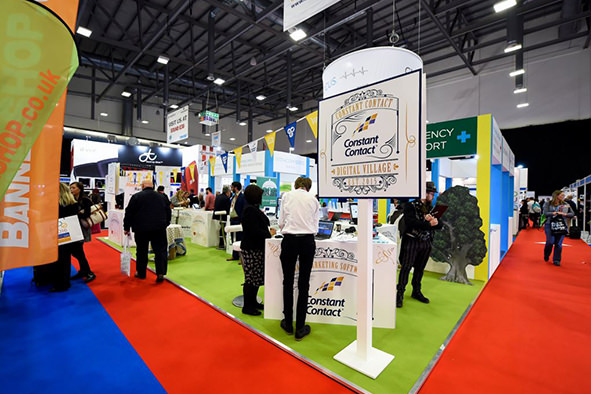 Attending events, conferences and trade shows is a key activity for most businesses. But to avoid disappointment it's vital to be well prepared.
Exhibitors who have planned in advance are more likely to be rewarded with more interest from potential customers, as well as increased sales.
So if you're planning to attend an event, ensure you book months in advance to secure your place. Also, have a good think about the equipment you'll need to make the event as memorable and successful as possible.
A great tip to attract prospects to your stand and get them talking is to offer something a bit different such as a competition, free coffee, ice cream or even a pick n mix sweet dispenser.
In this post, we list six items you should consider taking with you that will increase your chances of gaining new business at trade shows.
1. Name Badges
Almost everyone has these at trade shows. Not only do they help people easily identify a company and its representatives, but they also cut down on the need for reps to repeat information, allowing them instead to focus on conversations that could lead to sales.
Badges come in a variety of shapes and sizes and can be designed with your logo and company details.
2. Lanyards
Not items that are going to set the world on fire, but useful and a good way to keep stuff up together. Lanyards can hold badges and other items such as keys or keyrings. That is why they make fantastic giveaways.
3. Clipboards Or Notebooks
You'll need some way to collect details of all the people you interact with, and an easy low-cost solution is a clipboard or notebook with the appropriate form clipped or stapled on, customers can fill out their details easily and clearly – all ready for you to follow up on when you're back at the office. Of all the stuff to remember this is one of the most important!
4. Graphics & Signs
Again, all shapes and sizes available. Pop up banners are immediately visible and will make your stand more noticeable.
Then there are banners you can wear, sashes as they're most commonly called. They tend to be glitzy and colourful with a celebratory feel. They're great for attracting the attention of potential customers and positioning your company as one that's fun. Also fab as giveaways.
5. Banners & Flags
Design will vary depending on the event. At international trade shows it might be useful to have your country's flag on your stall. Some organisations design their own, complete with graphics and company logo.
6. Promotional Giveaways
Definitely stock up on promotional merchandise to give to customers and prospects. Bags, Sweets, key rings,  pens, water, power chargers etc. It'll help gain favour among consumers, draw attention to your stall, make visitors smile and will please the punters, especially if it's a really useful, cool giveaway or something they can take home to the kids.
Make Memorable Merchandise
[mailmunch-form id="172197″]
Having worked in Promotional Merchandise for the last 25 years I have been exposed to all aspects of the industry. Starting out as an account manager working with some of the worlds leading brands, I have learnt to understand the needs of a client, manufacturing processes, and what it takes to deliver a successful promotional campaign that is on brand, on time and within a given budget.