All You Need to Know About Promotional Umbrellas
Promotional umbrellas make great giveaways; at events, product launches or simply as customer gifts, they're perfect for showcasing a brand.
And, with an average of 107 days of rain in the UK each year, they're sure to be used – a walking billboard for a multitude of products and services.
Featured among the top 20 of the UK's most popular promotional products plus a UK spend topping just over £10 million a year (according to Sourcing Planet), promotional umbrellas make a great addition to a company's range of branded merchandise.
When choosing promotional umbrellas, give some thought to the users. Will the umbrellas be for the home or office? Are they for sport? Would folding or telescopic ones be best if they're to be shoved in brief cases or car boots?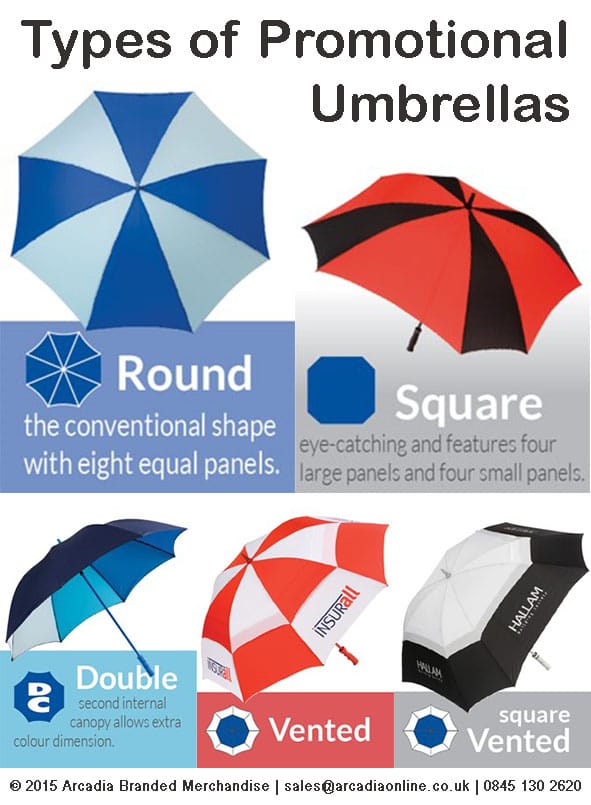 But no matter what style you opt for, make sure the quality's up to scratch. Sticking your logo on a flimsy umbrella that disintegrates in the first hefty gust of wind isn't going to say much about your brand. We've all seen high-street bins and golf courses littered with broken brollies!
There are many inexpensive ways in which to make promotional umbrellas look special. Panels come in a wide range of colours as standard (colours can be alternated if required). Take it a step further and go for an all-over design with 100% coverage or, to be really different, print on the interior of the canopy.
Round or square promotional umbrellas are available, as well as vented canopies that allow a gust of wind to pass through. Handles come in a variety of styles – in addition to the standard type – but some may be subject to a minimum order quantity and additional delivery time.
Tell us your requirements and we can advise on the best solution for your campaign.
Make Memorable Merchandise
[mailmunch-form id="172197″]
Having worked in Promotional Merchandise for the last 25 years I have been exposed to all aspects of the industry. Starting out as an account manager working with some of the worlds leading brands, I have learnt to understand the needs of a client, manufacturing processes, and what it takes to deliver a successful promotional campaign that is on brand, on time and within a given budget.