Branded Notebooks By Moleskine: The Revival Of A Classic Promotional Gift

Following the resurgence of Moleskine notebooks in the high street, branded notebooks are now one of the top selling business gifts in the UK.
The Moleskine is the successor to the legendary notebooks used by artists and thinkers over the past two centuries – Vincent van Gogh, Picasso, Hemingway and Bruce Chatwin.
They're simple and stylish. There's quality paper inside, a useful elasticated page marker plus a small expandable pocket at the back. Originally produced for more than a century by a French firm that supplied Parisienne stationers, they became trusted companions to painters, artists and travellers. The notebooks were home to drawings, scribbled notes and ideas that, in some cases, would one day metamorphose into lasting works of art.
But by the middle of the 1980s the notebooks had virtually disappeared. Until 1997 that is, when a Milan-based publishing company reintroduced them to market with the name, Moleskine, allegedly coined by Chatwin himself.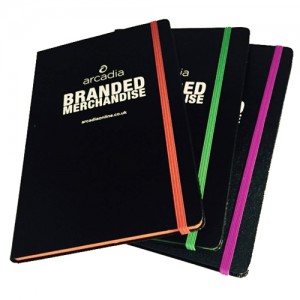 Nowadays the brand – in both real and digital format – feeds one's desire to travel, conjuring up images of foreign cities and the heady world of creative imagination.
Branded notebooks have become one of the best selling promotional items. Available to suit most budgets and in an array of sizes, materials and styles, they offer great branding opportunities for logos and messages. Contact our sales team at sales@arcadiaonline.co.uk to receive free samples and information on the ranges available.
Make Memorable Merchandise
[mailmunch-form id="172197″]
Having worked in Promotional Merchandise for the last 25 years I have been exposed to all aspects of the industry. Starting out as an account manager working with some of the worlds leading brands, I have learnt to understand the needs of a client, manufacturing processes, and what it takes to deliver a successful promotional campaign that is on brand, on time and within a given budget.