Eco-Friendly Packaging Makes A Splash!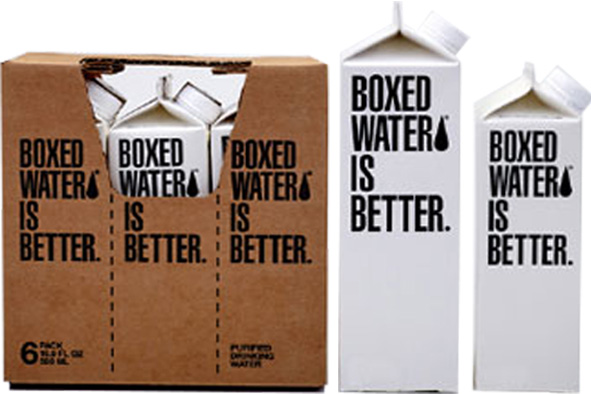 Water in a box …
Although hugely versatile and useful, plastic, if not recycled, can be a bad thing for our environment, especially when it ends up in landfill sites, or worse, washed up on our lovely beaches.
It's always good to be on the lookout for eco-friendly alternatives to help the enviroment, in addition it has become increasingly evident that a Brand can gain a loyal following when showing its values through products and packaging.
One interesting innovation is water that comes in a carton – similar to those used for milk – rather than in a plastic bottle.
Called simply Boxed Water Is Better, the product, which is 100% recyclable, has been developed by US-based www.boxedwaterisbetter.com
The firm has a proprietary five stage filtration process that purifies the water with UV, carbon and reverse osmosis filtration, making it free from chromium, arsenic, MTBE, chlorine, fluoride and trace pharmaceuticals.
As well as being 100% recyclable, 74% of the packaging is sourced from trees from well-managed forests. And because the company sends its boxes flat packed to its water filler means a lower carbon footprint as the boxes take up much less space during transport – one pallet holds around 35,000 flat cartons. When filled the cartons are dispatched on lorries, with easy stacking again saving valuable space.
In addition, the firm donates at least 1% of its revenue annually to reforestation and world water relief.
'We're an impermanent product,' says Jeremy Adams, the firm's vice president of marketing. 'Seventy five percent of it is paper. It's not made to last forever. Whereas 100% of a PET water bottle is going to be in a landfill for a thousand years.'
Arcadia is always observing trends and innovation from around the globe and would be happy to discuss any alternative eco-friendly ideas for promotional products and packaging.
Make Memorable Merchandise
[mailmunch-form id="172197″]
Having worked in Promotional Merchandise for the last 25 years I have been exposed to all aspects of the industry. Starting out as an account manager working with some of the worlds leading brands, I have learnt to understand the needs of a client, manufacturing processes, and what it takes to deliver a successful promotional campaign that is on brand, on time and within a given budget.