Fruit Of The Loom Announces Unusual Giveaway
Fruit of the Loom products are extremely popular among companies looking for plain clothing that can carry their brand.
The organisation produces an extensive array of garments, with T-shirts selling particularly well.
Fruit of the Loom has built a strong reputation for offering long-lasting items that are cheap to buy in bulk, making it an ideal option for larger firms that need to kit out a sizeable workforce.
Recently, however, the company has announced a very unusual giveaway. Fruit of the Loom will send emails to people who have confirmed via LinkedIn that they have landed a new job to tell them they have won some free underwear.
While this seems very strange on the face of it, there is logic behind it.
The company believes people will feel more confident on their first day in their new job if they are wearing comfortable undergarments.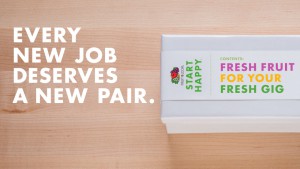 Launching on October 15th, the "Fresh Gigs" scheme will target 5,000 LinkedIn users weekly for five consecutive weeks and those selected will receive an email saying: "We're all excited for you about the new gig. To show this, we're hooking you up with a complimentary pair of Fruit of the Loom. Because great-fitting underwear can help you start your workday in a great mood."
Recipients will also be encouraged to share their win with their social media followers – another clever ploy by Fruit of the Loom.
Social media websites have become an invaluable marketing tool and companies are coming up with all kinds of innovative campaigns to increase their online following.
Make Memorable Merchandise
[mailmunch-form id="172197″]
Having worked in Promotional Merchandise for the last 25 years I have been exposed to all aspects of the industry. Starting out as an account manager working with some of the worlds leading brands, I have learnt to understand the needs of a client, manufacturing processes, and what it takes to deliver a successful promotional campaign that is on brand, on time and within a given budget.