Get Your Brand Ready For UEFA Euro 2016

The UEFA Euro 2016 championships kick off in France on 10 June, with France paired against Romania at the Stade de France in Saint-Denis.
The notion of a Europe-wide football tournament was first mooted by a Frenchman in 1927 – Henri Delaunay, secretary general of the French Football Federation. But it wasn't until 1958 that the championships actually got under way, with the first trophy named after Delaunay going to the Soviet Union after a nail-biting final with Yugoslavia.
Some of us of a certain age will remember pestering dad to fill the car up at ESSO service stations to get our mitts on the little coins that commemorated England's ill-fated – as it turned out – World Cup visit to Mexico in 1970.
Of course, football still offers an ideal opportunity to engage prospects and customers with promotional merchandise through competitions, events, hospitality, gifts, etc.
Our top ideas for the perfect football-related gift
Wall planner charts,
Face paint,
Football stress balls,
Football lollipops,
Giant push ball advertising footballs,
Fan scarves,
Giant foam hands.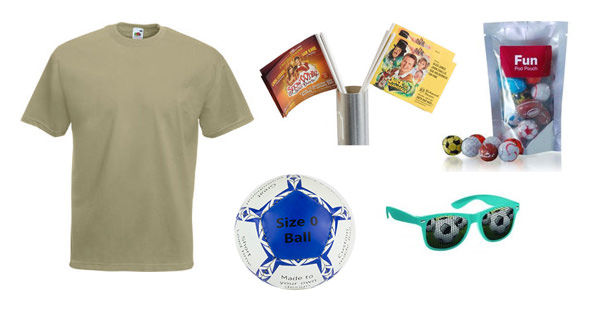 If you're reckoning on getting stuff printed for the UEFA Euro 2016 championships, make sure you're not infringing anyone's copyright. While fair use laws do allow use of copyrighted material without having to pay royalties, this tends to relate to educational uses only.
If you use materials that are in what's known as the 'public domain', then you don't need to worry. This includes things where copyright has expired or stuff that wasn't copyrightable in the first place.
However, if the material you want to use is not in the public domain, then you'll need to contact the copyright holder, ensuring you explain fully how you plan to use the material. If they agree, follow their instructions to the letter in terms of the material's usage. You'll probably have to pay a royalty. If they refuse, don't try to get round it or forge ahead anyway.
To get more information on football-related copyright permission, start by visiting ueafa.com or TheFA. For general information on copyright, go to gov.uk.
Make Memorable Merchandise
[mailmunch-form id="172197″]
Having worked in Promotional Merchandise for the last 25 years I have been exposed to all aspects of the industry. Starting out as an account manager working with some of the worlds leading brands, I have learnt to understand the needs of a client, manufacturing processes, and what it takes to deliver a successful promotional campaign that is on brand, on time and within a given budget.