Introducing The Virtuali-Tee Promotional Augmented Reality T-Shirt

Virtuali-Tee: It's a T-shirt… but not as we know it!
At the first glance, Virtuali-Tee looks like a regular T-shirt that you might don before heading out for the day. But, on closer inspection, and when viewed with an app that interacts with the shirt's design, the fabric is torn away and we see right through skin and flesh to goggle at the inner workings of the human body in animated 3D.
These augmented reality T-shirts from a London-based virtual reality startup, Curiscope, would be perfect in the classroom for students of all ages to explore human anatomy or just great fun with a gang of friends. Alternatively, use it on your own in 'selfie mode'!
It's planned that the app will be packed full of engaging experiences and facts about the body, designed to get people – especially children – excited about learning. By default, Virtuali-Tee will have three virtual reality experiences and interactive features.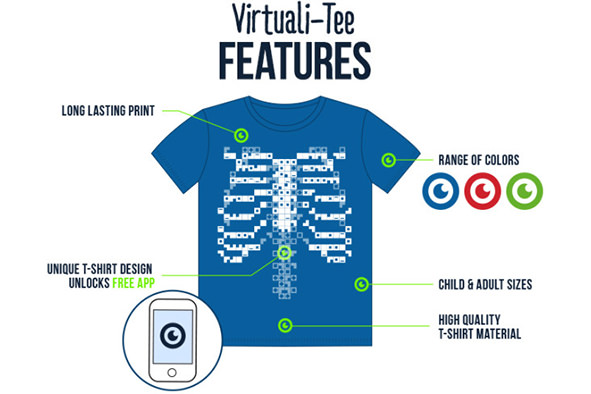 To ensure animations and facts delivered within the app will be correct, the developers are in discussion with a number of major health and education institutions.
After its Kickstarter campaign to crowd-fund the project raised more than $100,000, Curiscope is continuing its pre-order campaign on Indiegogo. One T-shirt costs just $30 and will interact with a free app scheduled for release in August.
'We had a fantastic campaign on Kickstarter, selling almost 2500 t-shirts to families and schools all over the world', says Ed Barton, Curiscope CEO. 'The feedback and outreach from the community has been fantastic and we're really looking forward to delivering one of the most exciting learning experiences ever. Kids all over the world are going to be able to experience anatomy in a way that has never been possible before. We are really excited to take this product to Indiegogo and to a new audience.'
At Arcadia, we are always looking for new technology and innovative promotional products and are pleased to announce that we are able to supply Augmented Reality T-Shirts for promotional use. Contact our sales team at sales@arcadiaonline.co.uk for more information.
Make Memorable Merchandise
[mailmunch-form id="172197″]
Having worked in Promotional Merchandise for the last 25 years I have been exposed to all aspects of the industry. Starting out as an account manager working with some of the worlds leading brands, I have learnt to understand the needs of a client, manufacturing processes, and what it takes to deliver a successful promotional campaign that is on brand, on time and within a given budget.