Is Your Promotional Mug Dishwasher Proof?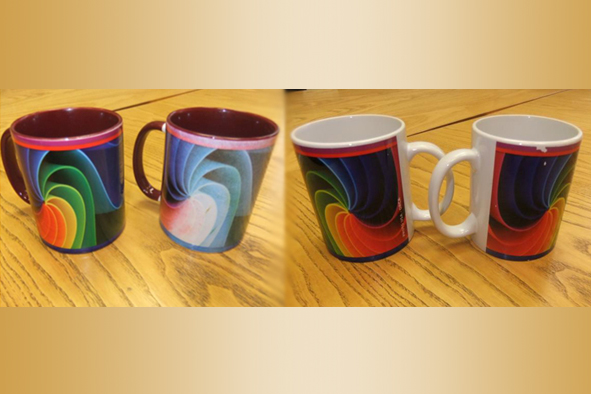 Poor quality Mug Printing Investigation.
The BPMA reports findings…
When the BPMA surveyed people at a marketing exhibition it got something of a shock – 72% said they weren't happy with the quality of the promotional goods they'd received; 82% of the larger buyers said they were unhappy.
There's no doubt that promotional merchandise is one of the most cost effective advertising methods around, but, says the BPMA, 'the reputation of our sector is at risk if we're unable to better manage the expectations of marketers, brand owners and the consumers who use the products we produce.'
The quality and compliance of products imported from the Far East is one particular challenge.
More than five million photo mugs get sold as gifts each year in the UK. They've grown in popularity because of improved print quality, the vivid colours that can be achieved and the ability to order low quantities. Historically sold as hand wash only, most are now marketed as dishwasher safe.
It works like this. Images on mugs are created with dye-based inks. But inks can't be applied on standard glazes so producers apply an organic ink receptor. The unprinted mugs are distributed worldwide to a network of wholesalers/importers, who sell on to local printers. (Large printers tend to import directly from source.)
Most Far East mug manufacturers products are dishwasher proof; claims which are usually mirrored by the printers. The four main sources include: Orca, Rhino Coat, JS Coating and Duraglaze.
The BPMA got 'dishwasher proof' samples from all four and sent them for testing at specialist laboratory, Lucideon in Stoke-on-Trent.
Just one passed the 32-hour immersion test!
Common defects were:
* fading and deterioration of the image,
* failure of adhesion between the coating and the ceramic mug body, resulting in flaking.
One set was inspected after only eight hours – roughly 100-125 dishwasher cycles – and even after this short period all were showing changes compared with the control samples. Rhino Coat and JS Coating exhibited the most significant deterioration.
The BPMA calculate promotional mugs are kept for about three years, in some cases up to five. If we assume a mug gets washed every day, five/seven days a week, then the failing ones in the tests are likely to show deterioration in about six months.
Importers, printers and distributors don't have a legal obligation to supply mugs that are dishwasher proof, but where claims are made they do need to be substantiated using BS EN 12875-4:2006.
At Arcadia we pride ourselves on supplying the best quality products from the best manufacturers.
Check out our reviews to see what our customers are saying about us and the quality of product we supply./
Make Memorable Merchandise
[mailmunch-form id="172197″]
Having worked in Promotional Merchandise for the last 25 years I have been exposed to all aspects of the industry. Starting out as an account manager working with some of the worlds leading brands, I have learnt to understand the needs of a client, manufacturing processes, and what it takes to deliver a successful promotional campaign that is on brand, on time and within a given budget.