Promotional Merchandise Checklist: How To Choose The Right Products

Promotional merchandise should always reflect a brand's image and its associated values. It should also be useful to the person who receives it.
Too often during a marketing campaign merchandise is overlooked until the last minute and then rushed through as an afterthought. Also, don't waste funds on something that won't really be needed or could prove detrimental to a campaign.
We all like to receive a considered, quality gift that reflects our own personality and lifestyle so be especially careful when giving low-cost products. Make sure they're in keeping with your company and the service you offer, as well as with your customers.
There's nothing worse than a poor promotional product, or one that's simply not up to the job. You know yourself that when you're given a gift you'll instinctively form an opinion of the person and business giving it based on the gift itself as well as the way it's packaged.
If you follow some simple rules when ordering promotional merchandise, you'll definitely add value to your brand as well as getting people to remember it for the right reasons!
Things To Keep An Eye Out For
Compliance. Make sure products are safe and compliant. Gifts for children need to carry a CE mark. They'll need to be safe for the age of the child they're intended for.
Electrical products. These need to be safe, EU compliant and fully tested. Also, check if they have been manufactured within an ethical supply chain.
Quality. Will clothing keep its shape? Will it wash well without colours running? Will zips break? Also, watch out for bag straps that might come off with use. Products not fit for purpose include: bad quality, fuzzy, speakers or headphones; pens that dry up or don't work; mugs that aren't dishwasher safe. Also, if printing on metal products, beware on quick turnaround times, the print in danger of coming off if the ink has not had time to cure.
If you're planning on giving a product with batteries, make sure they're supplied with the product but not connected, as they might have run out by the time the recipient tries to use the device.
The way items are packaged is important, as product packaging can say as much about you as the actual product. Always ensure breakable items such as mugs are packed correctly. It's also a good idea to individually polly bag products so they don't get scuffed or damaged. Also it might sound obivious… but make sure you have the space to store any boxes that'll be arriving, especially at an event.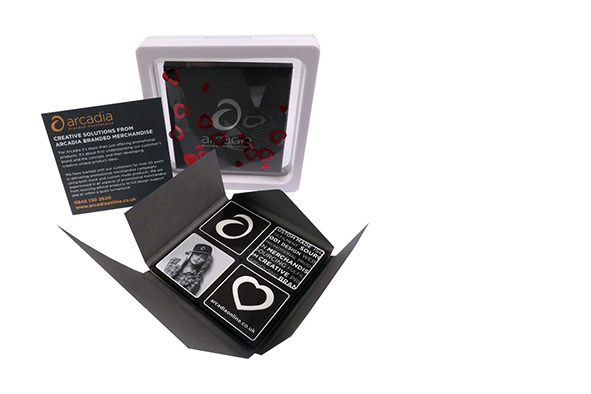 Finally, remember that drinks and sweets have sell-by dates, double-check any wording that's to be printed on a product or its packaging, and where you can add a web address for information.
If you're looking for quality promotional merchandise, whether it's traditional items or something that's more quirky and innovative, Arcadia can help you find ethically sourced, quality merchandise designed to make your brand stand out from the crowd. Contact our friendly sales team at sales@arcadiaonline.co.uk today.
Make Memorable Merchandise
[mailmunch-form id="172197″]
Having worked in Promotional Merchandise for the last 25 years I have been exposed to all aspects of the industry. Starting out as an account manager working with some of the worlds leading brands, I have learnt to understand the needs of a client, manufacturing processes, and what it takes to deliver a successful promotional campaign that is on brand, on time and within a given budget.