Guide to Corporate clothing
Think about it. A barista in a coffee shop, a plumber or electrician that visits people at home, employees at airports and railway stations, staff in shops, at exhibitions and conferences – corporate clothing of one type or another surrounds us.
According to a CIPS report, the UK corporate workwear market saw growth of 90 per cent in the 10 years to 1998.
It is estimated that over half the UK workforce wears some form of corporate or company provided working clothing and for some companies the annual bill is very large indeed – £4-5 million a year for the 48,000 staff of British Airways, for example.
A BPMA survey found that a massive 91% of respondents said they used corporate clothing in their businesses.
For some more great information and everything you need to know about promotional and corporate clothing visit the BPMA guide to clothing website

Corporate clothing benefits…
makes staff and team members more easily identifiable at events
draws attention to a special message or a particular positive brand attribute
conveys a professional image
makes staff more approachable
adds value to the brand
But when branded clothing is used as a promotional gift, its power as an advertising and marketing tool is enhanced further still.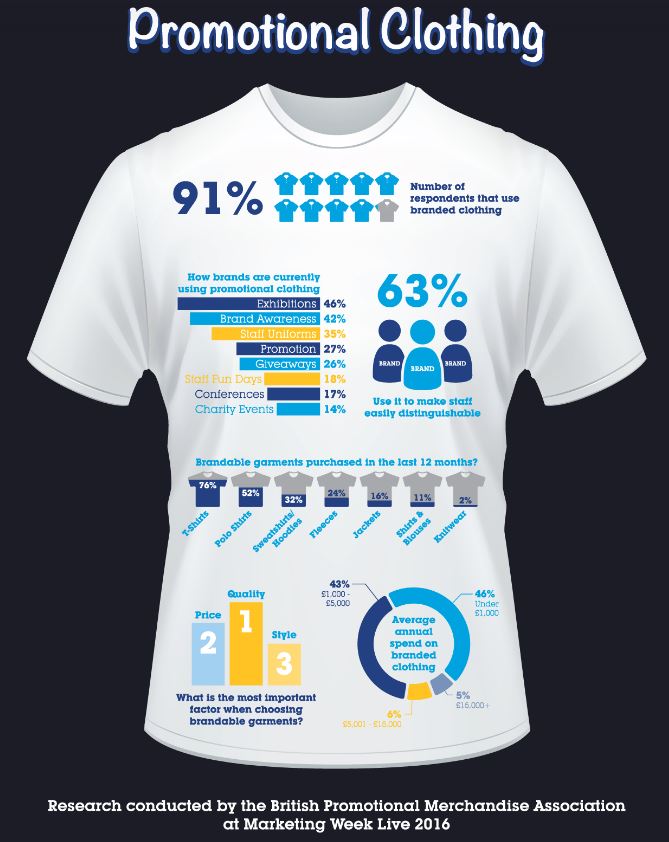 And it's great news that recipients are happy to sport your clothing, which will lead to greater brand awareness as well as drawing attention to the message you want to get across – whether it's the company's main brand value or a message that's part of a specific marketing campaign.
Clothing giveaways always prove popular, generate goodwill and can create an incentive to act.
There's lots to choose from…
t-shits
polo shirts
sweat shirts
hoodies
fleeces
jackets
formal shirts
caps & hats
When it comes to outfitting staff, whether for an event or on a day-to-day basis, there are some things you might want to consider…

What garments constitute the staff wardrobe – a t-shirt or polo shirt? Or would a warmer item of clothing be needed too? What about headgear? Shoes? Is there a safety requirement, such as something fluorescent?
How many sets of clothing? If it's a one-day event then one item might be sufficient. But with regular wear, the norm is three (one worn, one in the laundry, one in the wardrobe).
How long will garments last? Will they be replaced wholesale on a periodic basis, or item by item as needed?
Do cultural or religious or other issues need to be considered?

Whatever your needs, Arcadia has an extensive and exciting range of brandable clothing available and if that no enough we can design and manufacture your very own brands  bespoke clothing range.
Contact our team for more information, samples, designs and prices.
Make Memorable Merchandise
[mailmunch-form id="172197″]
Having worked in Promotional Merchandise for the last 25 years I have been exposed to all aspects of the industry. Starting out as an account manager working with some of the worlds leading brands, I have learnt to understand the needs of a client, manufacturing processes, and what it takes to deliver a successful promotional campaign that is on brand, on time and within a given budget.