60 Second Interview: Gordon Glenister – British Promotional Merchandise Association

An Inside View Of The Promotional Merchandise Industry.
… Gordon Glenister, British Promotional Merchandise Association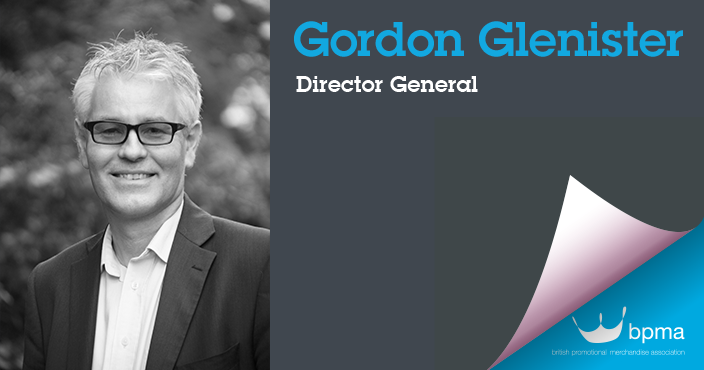 When you woke on 24th June last year and discovered the EU referendum result, were you concerned for the promotional products industry or did you see an opportunity?
"To be honest like many of the remainers, I was shocked. It was a badly presented campaign on both sides and became one largely driven by immigration. Much of the real impact had not been discussed in a level-headed way. Many weren't sure what they were voting for. I was concerned about the impact to our economy and many of the European laws and trade we take for granted. A reduction in confidence or investment could affect the industry."
Have your feelings changed since the government triggered Article 50?
"They've mellowed. It's a question of getting on with it now. This is a very resilient country and we're well prepared for any shocks. I don't think there will be an exodus of companies as some in the media have predicted. The stock market and investment in the UK are at record levels at present. Obviously the short term impact has been driven around currency fluctuations and for those buying in dollars from overseas countries, which will make promotional products more expensive. I've noticed that those suppliers who manufacturer here are doing well at the moment."
Will coming out of the EU result in more promotional merchandise being sourced from China and South East Asia? Will this affect quality and innovation?
"Maybe. But it's too early to tell at present. I think there has been growth in bespoke merchandise but much of that can be designed here. I don't think it serves our industry well to offer cheap merchandise; brands want quality products at great value, all our research proves this, so a marginal increase may not be a bad thing."
How important is it that promotional marketing companies attain ISO status – such as ISO 27000 for information management, ISO 9000 for quality and ISO 14000 for environmental protection?
"I'm in favour of our companies at the top of their game attaining the BPMA charter status, it's certainly the primary focus, but ISO management accreditations are highly regarded both within and outside the industry."
Over the years it could be argued that the industry has struggled with the perception of being a supplier of cheaper/low quality items. How has this perception changed? Do you think that recipients of promotional merchandise really care that an item that's given away free is of good quality and has been ethically sourced?
"I think it's about managing people's expectations. I often joke about a pen being supplied at 8p, but not to expect there to be ink in it! Good things cost money and if companies are associated with low quality items it will reflect badly on their brands. Often better to go up a spec if there are budget limitations, and have fewer of them. The internet has made it a whole lot easier to shop around for products. What organisations need to be aware of is that merchandise is an essential advertising medium that may be used by a customer or a prospect on a daily basis. Would you want the cheapest looking stand at an exhibition? Of course not, so why allow something with your most prized asset on it to be put onto a product that doesn't look good?"
Keeping with the notion of changing perceptions, do you feel the importance of promotional merchandise is not fully appreciated, especially within the wider marketing community?
"Sometimes yes, yet surprisingly our research suggests it's the only advertising medium that allows you to say thank you to your clients. It's also a very powerful way of engaging with your target audience on a daily basis in many instances. It rains 147 days a year on average, so on a wet day how powerful to see people using promotional umbrellas in London! And the London Marathon, the largest fund-raising event in the UK. How many wear a Promotional T shirt supporting their charity? Most do. The Meerkat, a promotional branded toy for Compare the Market.com is one of the most successful brand icons in the UK, with more than 3m having gone to customers."
Thanks Gordon!
Gordon Glenister is director general of the BPMA, the leading authority of promotional merchandise in the UK and responsible for the promotional and professional conduct of the £1bn advertising gift industry.
Arcadia is a BPMA Charter Member. The Charter Membership status is a representative of the most respected and reputable companies within the Promotional Merchandise industry. It is the ultimate in industry standards and promotes the highest level of business practice and customer service.
Make Memorable Merchandise
Having worked in Promotional Merchandise for the last 25 years I have been exposed to all aspects of the industry. Starting out as an account manager working with some of the worlds leading brands, I have learnt to understand the needs of a client, manufacturing processes, and what it takes to deliver a successful promotional campaign that is on brand, on time and within a given budget.