Branded Reusable Bottles Help the Environment

Have You Got the Bottle to Save our Oceans!
The Department of Environment is considering implementing a tax of up to 22p onto plastic bottles. This is to prevent the millions of plastic bottles that go unrecycled each day, millions of these bottles make their into our oceans each year.
A similar scheme similar already exist in Germany and some parts of Scandinavia where consumers pay between 8p to 22p extra, but get that money back when they return their bottles. This announcement is the latest move in the government crackdown on plastic, and follows the 5p plastic bag charge, which has led to nine billion fewer bags being distributed.
There are over 150 million tonnes of plastic in the world's oceans, with an estimated 12 million tonnes added each year. One million birds and over 100,000 sea mammals die from eating and getting tangled in plastic waste.
Promotional Reusable Bottles help reduce the number of discarded plastic bottles of which more than 800 are thrown away every minute in the UK.
Environmentally friendly Promotional reusable bottles will not only help the cause but will carry a logo promoting a brand in a positive way.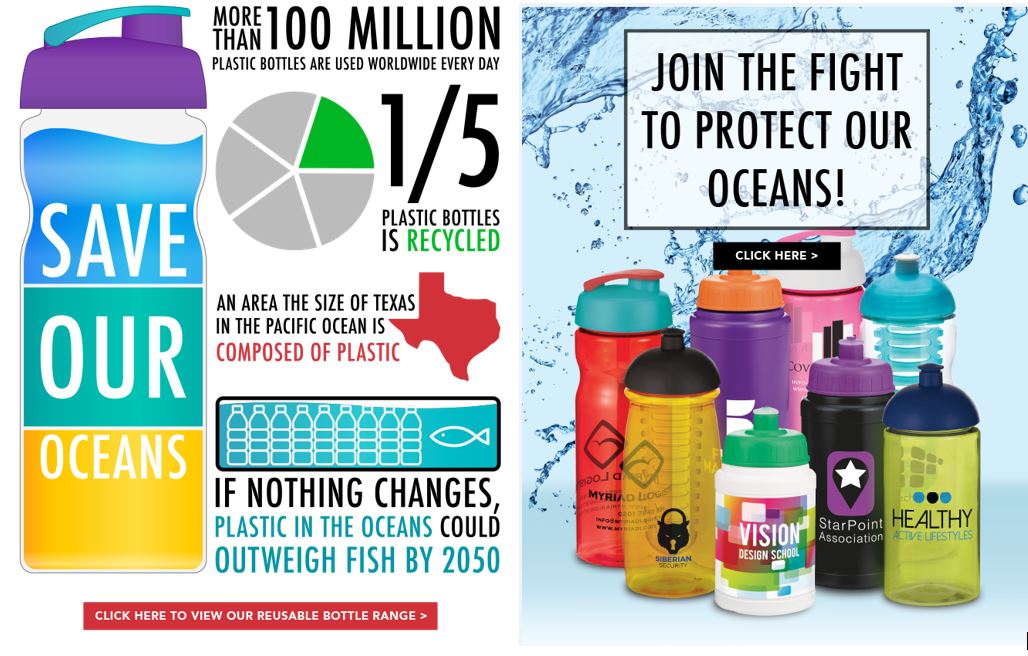 Disposable plastic waste is polluting our oceans and causing harm to our natural environment. One way to combat this ever growing problem is with a reusable and more eco-friendly alternative.
Our range of Promotional Reusable Bottles are designed to be used time and time again, meaning that they can help you to promote awareness of this cause, at the same time as promoting your brand!
It's imperative the world cuts down on its plastic bottle use, let's remember we all have water on tap!
For more information contact our team.
Make Memorable Merchandise
[mailmunch-form id="172197″]
Having worked in Promotional Merchandise for the last 25 years I have been exposed to all aspects of the industry. Starting out as an account manager working with some of the worlds leading brands, I have learnt to understand the needs of a client, manufacturing processes, and what it takes to deliver a successful promotional campaign that is on brand, on time and within a given budget.