How To Get Your Brand In Front Of Your Customers All Year Round
Harness the power of a promotional desktop calendar and get your brand noticed!
If you're looking to get your brand in front of customers all year round, why not try a promotional desktop calendar.
A 2014 BPMA survey, which collated responses from over a thousand UK business people, posed the question: What promotional products do you keep on your desk? While 35% said they had a desk pad and 49% confirmed a mouse mat, 54% owned up to a desktop calendar.
People like them. So we checked out the promotional calendar gizmos available and came up with the following list of what's best for your desk!
1. Desktop Calendar
Many options available but our personal favourite is our bespoke desktop calendar, which not only allows you to brand each page, but every image can be personalised with a customer's name as well. Send us your own images… we'll do the rest.
2. Calendar Mouse Mats
Superior quality and great value for money, our Brite-Mat Mouse Mat offers fantastic colour reproduction and can be printed with a calendar.
3. Calendar Pods
The gift for someone who's got everything, a hardback cover containing two sheets of sticky notes, index tabs and twelve calendar sheets.
4. CD Case Calendar
This compact and tidy offering has 12 individual monthly sheets and one cover sheet with standard library images or fully bespoke.
5. Infinite Metal Desk Calendar
One for the execs, a convenient desk calendar with sliding frame.
6. Desk-Mate Desk Pad
Our A3 Desk-Mate range will secure prime position on customer desks and provide an ideal way to get your message seen. The promotional pads look great carrying calendars, weekly planners and to-do lists, all set off with your company logo and contact details.
7. Chocolate Advent Calendar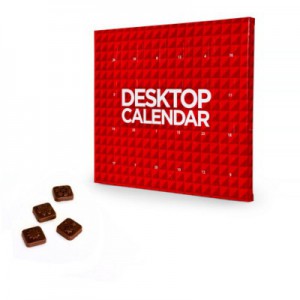 A treat for every countdown day. Regretfully too yummy to be kept for longer than 24 days but we just had to add it to our favs. Desktop sized, free-standing, milk chocolate advent calendar with a full colour printed box for a personalised logo or message.
We have many more desktop calendars in our collection, all with a choice of eye-catching FREE templates from which to choose, so all you need to do is select your preferred template and supply your logo, or we can help you create one.
Make Memorable Merchandise
[mailmunch-form id="172197″]
Having worked in Promotional Merchandise for the last 25 years I have been exposed to all aspects of the industry. Starting out as an account manager working with some of the worlds leading brands, I have learnt to understand the needs of a client, manufacturing processes, and what it takes to deliver a successful promotional campaign that is on brand, on time and within a given budget.