The next game changer?
So called promotional 'game changing' products don't come along often. Looking back over the years we've seen many promotional technology products  launched as a result of tech developments or changes in consumer behaviour – think mouse mats, memory sticks, digital photo frames and, more recently, portable power banks and charging cables.
The latest new kid on the block, wireless charging, is definitely one to watch. Matt Pluckrose, @desktopmatt explains why.
Wireless charging is finding its way into our daily lives very quickly. 'Qi', pronounced 'Chi' is the global standard for the technology that's been developed under the auspices of the Wireless Power Consortium.
Put simply Qi wireless charging is the power transfer from one device to another via electromagnetic induction fields. Over time it's set to render conventional charging via cables obsolete.
All that's required is a power source/battery, a Qi charging station (transmitter) and a phone enabled for wireless charging (receiver). As soon as a battery runs low or is out of power, simply pop the device on the station and the phone starts charging – smart, simple and fast!
Early adopters such as Samsung, Sony and LG have had the technology built into devices for some years, while Apple has only recently joined, announcing last autumn that its new phones – iPhone 8 and X – had wireless charging capability.
'The total global wireless power market is expected to grow to one billion receiver units shipped by 2020', according to IHS, a London-based business intelligence and research company. Wireless charging has lots of benefits, and research shows that up to 76% of consumers are eagerly awaiting it.
But until now the promotional merchandise industry has been in an awkward position because without Apple offering wireless charging it was tricky to know whether a premium gift would be compatible with a customer's or prospect's phone.
Major automotive brands (Kia, BMW, Ford) are including wireless charging into their cars – coffee shops too (Starbucks, Costa). And McDonalds has more than 500 wireless charging points in outlets in Europe. Even some furniture from Ikea is now offering wireless charging!
However, increased popularity of the technology could result (rather like it did with lithium battery power banks) in an influx of products onto the market that don't meet the standards required by the Consortium. Hopefully, for the industry's sake, manufacturers will stick by the Consortium's standards.

If you want to embrace a likely promotional  'game changer', talk , Arcadia a specialist and reputable supplier for the latest promotional merchandise .
Stop Press:
Arcadia launches quarterly technology magazine: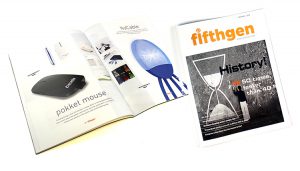 Fill out the form below to order our quarterly magazine fifthgen, a magazine dedicated to the latest tech developments.
[contact-form-7 id="47573″ title="2018 Fifthgen Newsletter"]
Make Memorable Merchandise
[mailmunch-form id="172197″]
Having worked in Promotional Merchandise for the last 25 years I have been exposed to all aspects of the industry. Starting out as an account manager working with some of the worlds leading brands, I have learnt to understand the needs of a client, manufacturing processes, and what it takes to deliver a successful promotional campaign that is on brand, on time and within a given budget.